Thursday 17th of November 2022, 11am until 5pm, Backbone050 Groningen
"There is no
knowledge

, only encounters."
– Bibi Straatman
Join our hands-on symposium There is no knowledge, only encounters on November 17th in Groningen!
This symposium is an exploration on the attitude of not knowing. In what way can not knowing be transformative for an artistic practice? In what ways can this kind of artistic practice bridge and contribute to new ways of seeing and acting in different layers of our society?
We invite artists, designers and artistic researchers whose practice has a performative approach, as well as everyone who is interested in the topic, including the 'accidental' passerby who works or lives in the city of Groningen and beyond. The thematic focus and desired outcome of the symposium is the 'performative' in its multitude of meanings.
This event is a stepping stone in ongoing research by the independent research unit Not Knowing Core (NK Core) from Artistic Research Community in the North (ARC). NK Core is formed by Adri, Kevin, Simona and T.S.Anna
The event is organised in collaboration with professorship "Image in Context", and supported by Kunstraad Groningen
The program is in the making…
Expect an immersive and joyful day with walks, dialogues and work sessions in big groups and small groups, a nice and healthy lunch, coffee, tea and to finish the day with some drinks.
Our temporary collective is currently working hard to develop a diverse and active program. The last few weeks we met online to discuss and share our different views and ways of working. It is exciting to see how the program is taking more shape with every session. We decided to stay faithful to not knowing and keep an open process as long as needed. The coming week we will have two more sessions to finalize the program. We hope you have as much faith in the process as we do. 🙂
Our ticket service up and running. To participate in the hands-on symposium There is no knowledge, only encounters, we offer different type of tickets. Please check them out and buy the tickets by clicking the button below. Tickets are available at our online Stager ticket shop.
Full Ticket             €25,00 (For all who can afford this. Such as participants representing educational and cultural organisations)
Concession ticket       €15,00 (Reduced price primaraly aimed at full-time artists, students and Stadjerspas holders)
NOTAFLOF                 €5,00 (No One Turned Away For Lack Of Funds – for all who cannot afford a full/concession ticket)
If in all cases you still are not able to afford a ticket, don't hesitate to contact us and we will find a way for you to participate.
There is a limited amount of tickets available, don't wait too long!
The tickets are including lunch and drinks.
Meet our temporary Not Knowing collective!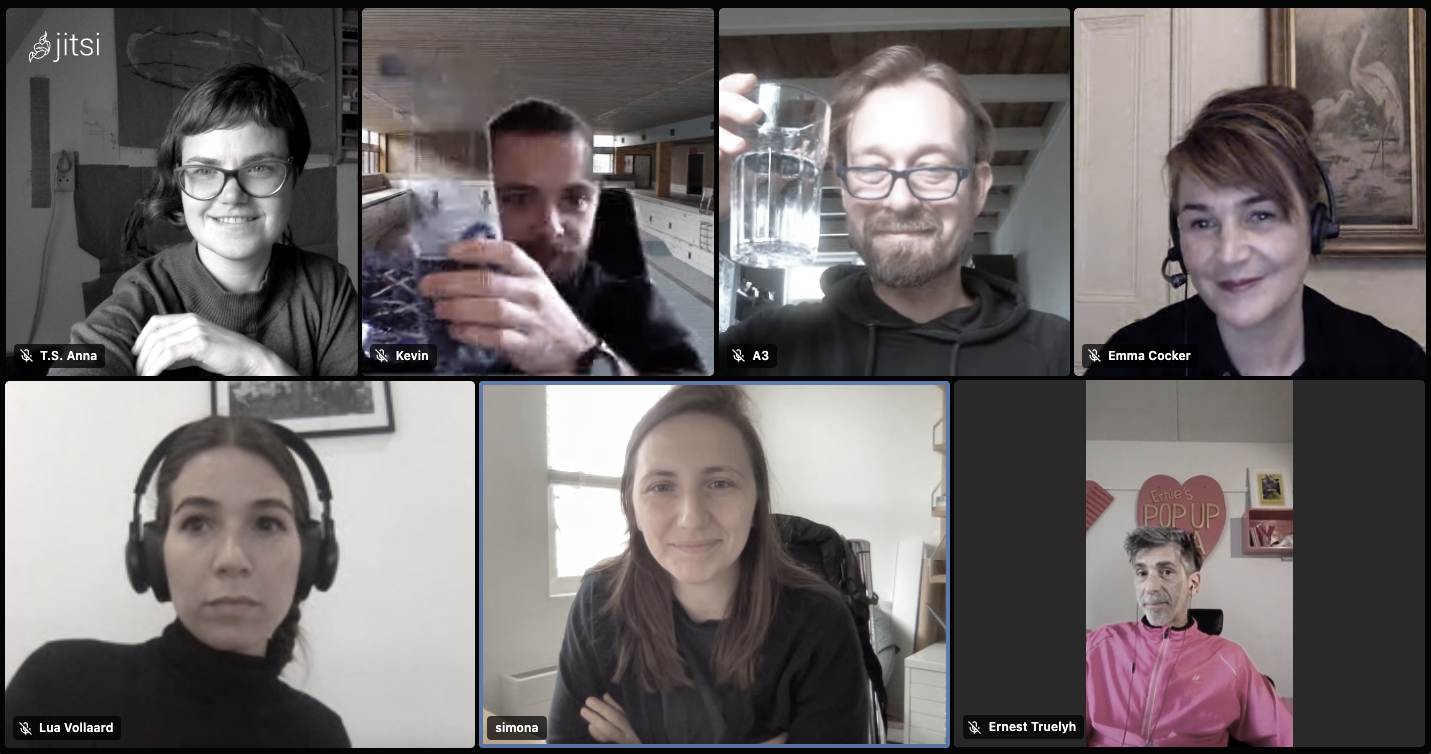 In the past few weeks and the coming weeks a temporary collective, formed by Emma Cocker (UK), Ernest Truely (US/FIN), Adri Schokker (NL), Kevin Perrin (NL/FR), Simona Kicurovska(NL/MK) and T.S. Anna (NL/LV), is preparing to host and facilitate encounters that will create a field of action. One where process, not-knowing and public meet in a shared space.
The symposium will be held at Backbone050, a form college school and cultural hub where more then 100 artists, designers, musicians and other cultural and social organisations have their studio' s and offices. The beautiful abandoned indoor swimming pool will be the center stage for our event.
Address:
Travertijnstraat 12
9743 SZ, Groningen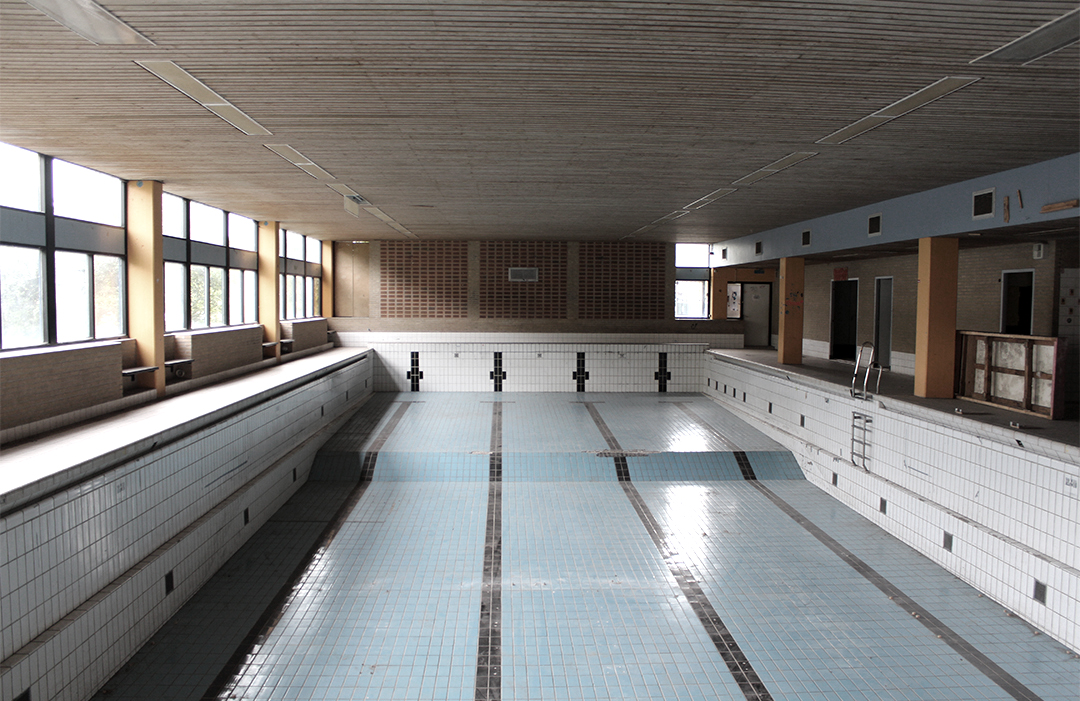 Treat yourself to a momentary pause from the brutal conditions of Advanced Capitalism at Ernie's Pop Up Spa.
Enjoy naturally artistic therapies, holistic haircare and spa spectacle.
Ask about Aura Readings for Dogs.
To book and for more info:
Follow on Instagram and DM @erniespopupspa or
Email erniespopupspa@gmail.com or
Phone +358 418060404
Book in advance – first 8 appointments will qualify for a discount price of up to 44%
Booking and opening hours available:
Tuesday 15 November        – 10:00 until 21:00
Wednesday 16 November      – 10:00 until 12:00
Thursday 17 November       – between 18:00 and 21:00 (after hands-on symposium)
Friday 18 November         – between 10:00 and 18:00
Services and prices (discount price/full price):
Art School Haircut 25€ / 35-45€
Hand poked tattoo 35€  / 50€
Ask about Aura Readings for Dogs 10€ / 20€
Marker Tattoo 2€
About the Artist
Since 2015 I've been developing Ernie's Pop Up Spa in international art festivals, cultural events as well as on the street when I offer spa services including haircuts. Art School Haircuts start with a head massage as my way of knowing the best way to cut your hair in that moment. I describe my feeling, we discuss it and decide together how to cut your hair. While I began cutting hair as a performance art intervention, I have deepened my knowledge of hairdressing through professional studies at Stadin Ammattioppisto in Helsinki. My experience as artist exploring themes of care through touch, trust, intimacy and transformation informs how I do spa service.
Ernie's Pop Up Spa considers alternative economies in the context of sustainable artistic practice in the anthropocene.
The event is organised in collaboration with professorship "Image in Context", and supported by Kunstraad.